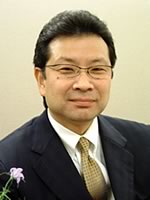 HIROSHI ABIRU
Welcome from Our CEO
@As our corporate policy is the creation of healthy lives, we strive to develop and produce the best personal medical instruments all the time.
@ We are constantly working to develop and produce medical instruments that both impress and please our customers. Accordingly, we have incorporated our knowledge and techniques from all angles, producing unique and high-value merchandise.
@ We have been evaluated as a highly trustworthy company by numerous customers thanks to our quality products and purposeful endeavors over the last 40 years. We are further encouraged by our customers' continued support and loyalty to our merchandise.
@ In 2004 , we acquired international certificate
@"ISO #13485," adding to the credibility of our merchandise while we continue to develop high-quality products in accordance with laws and ordinances such as the Pharmaceutical Affairs Law.
@ Now is your chance to act to preserve your health! We consider providing healthy and prosperous lives to people through our products to be our mission.


Sincerely yours,

Hiroshi Abiru,
CEO
Nihon Riko Medical Corporation Limited